The most successful among us believe they can turn dirt into gold. Call it ego, call it the mentality that comes from a long winning streak, or simply call it out when you see it. Whatever the case, back in 2001, Jeffrey Atkins figured he could make Shorty 101 a thing.
Oh, you don't remember Shorty 101? They were an all-white women hip-pop quartet with a dress sense that drew from the most tragic corners of 2000s fashion. The group's one notable song, "Get With Me," was produced by none other than Rodney "Darkchild" Jerkins and appeared on the Nutty Professor II: The Klumps soundtrack, alongside Janet Jackson's "Doesn't Really Matter." It's not a good song: the lead vocal is weak and the music reheats the worst elements of the teen pop craze. Alchemise everything from that era of American pop culture that has aged poorly and you'll have something that hits like "Get With Me."
Ja Rule, though, was on a roll, and presumably thought he could turn a group with novelty act potential into a winning ticket. In a 2001 profile, Ja revealed to Vibe that he had penned a song for Shorty 101 called "My Sweet Baby," even dropping by The Hit Factory with journalist Lola Ogunnaike to make sure recording was going smoothly. It doesn't look like the song ever surfaced.
In the same article, Ja declared that had he been on board one of the planes hijacked on 9/11, he would have stopped the terrorist plot. When asked if he was willing to fight in Afghanistan, the Queens rapper admitted, "I can't run too good."
Undiluted confidence was the way of Murder Inc Records back in the early shots of the 21st century. The label put together a run that made everyone involved feel they could walk on water. Strutting from the front was Irv Gotti, CEO and co-founder, who adopted the name of his company from a national crime syndicate formed in the 1930s and presented himself as the Don of a mafia-style organization. Gotti enjoyed being photographed in a huge overcoat and fedora hat; sometimes be could be spotted with a $50,000 jewel-encrusted medallion swinging from his neck. The way Irv centered himself into his company's image made Puffy look understated.
Hailing from Hollis, Queens, Irving Lorenzo earned his stripes in Jamaica Park, where he'd spin records and sell mixtapes under the name DJ Irv. Some of his customers were in the drug business and, for a time, so was he.
An early adventure into professional recording came when Irv contributed to Mic Geronimo's 1995 debut album, The Natural. Included on the record was "Time To Build," which featured rising artists known locally as Jay-Z, DMX, and Ja Rule. Irv had entered Jay's orbit through the rapper's mentor Jaz-O and the pair gelled right away. It's said that Irv opened some doors for Roc-A-Fella at Def Jam, and having been given a desk at the company by Lyor Cohen, he convinced Def Jam to invest in DMX too.
Irv contributed to the recording of Jay's Reasonable Doubt and X's It's Dark and Hell Is Hot—neither of which did too badly—and he leveraged his hit-making credentials into a deal with Def Jam that allowed him to start a boutique label with his brother Chris, who also took up the Gotti moniker. The firm would be called Murder Inc, the name Gotti originally envisioned for a hip-hop supergroup that would feature Jay, DMX, and Ja Rule. Def Jam would market and distribute the fledgling imprint.
Gotti brought in Lil Rob a lot in those early days to help with the beats. Most crucially, he recruited Ja Rule as a producer, songwriter, and flagship artist. Ja proved to be the single most important entity in developing the Murder Inc sound. His 1999 debut album, Venni Vetti Vecci, went platinum and gave the label its first hit, "Holla Holla." As the Murder Inc's profile grew, Ja seemed increasingly happy to envision himself as the 2pac to Irv's Suge Knight. (Gotti, it must be said, was always a more affable personality than his cigar-chomping counterpart.)
Venni Vetti Vecci was followed up by Rule 3:36 and Pain is Love as Irv as Ja nailed down the label's aesthetic: prominent samples, slick synths, looped acoustic guitars, catchy hooks, and Ja's croaky voice veering from rapping to singing. The star's notions of being a hardcore rapper began to fade as his MTV presence grew.
Irv brokered a deal to put together The Fast and the Furious soundtrack. He signed a very young Christiana Milian—who brought a more teen pop sound to the label—and Ashanti, an R&B chanteuse who would break all sorts of chart records. Murder Inc epitomized the collective-first ethos of rap labels at that time, its artists' output intertwining like thick grapevine. Ashanti and Ja were a dream team to match Kobe and Shaq: the soft-voiced singer and her rough 'n' tumble auxiliary. Irv would further colonize the charts by crafting singles for Fat Joe and Eve. He remixed Jennifer Lopez hits, helping J.Lo net urban radio traction she desired. The "I'm Real" remix in particular really made the world aware of the Murder Inc aesthetic. I remember that tune being absolutely everywhere. This was 2001 and Ja and co. seemed like they could not lose. Hence Shorty 101 (probably).
Released in the summer of 2002, the absolute peak of the label's cultural presence, Irv Gotti Presents: The Inc was the crest of the wave. Over 16 songs and 70 minutes, Gotti unleashes the Inc's entire arsenal. It's pop-rap with perfect radio hooks mixed with meaner street sounds; box office names sharing space with a supporting cast of flawed hangers on hoping to be next in line.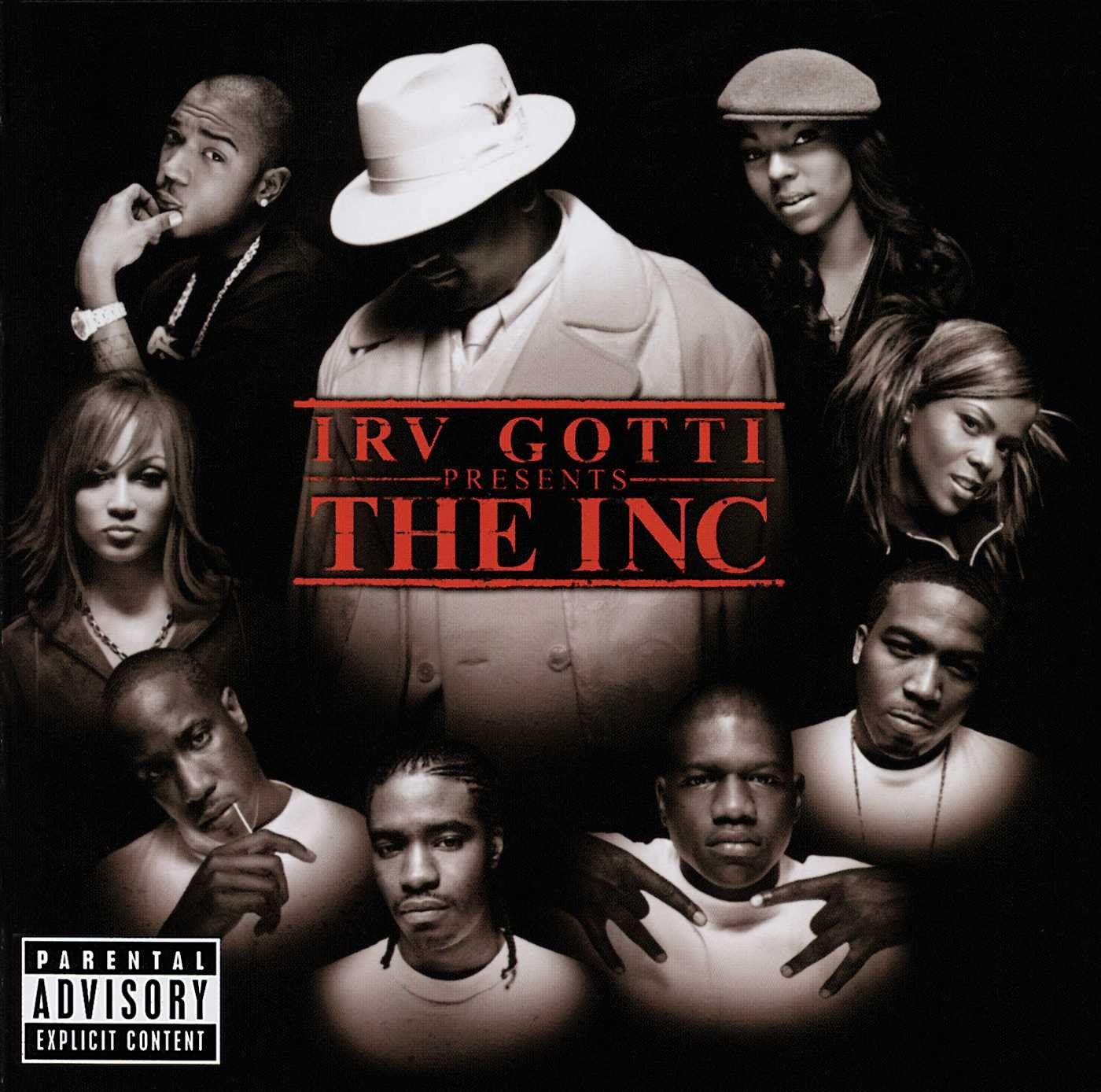 Irv Gotti Presents: The Inc arrived right before a beef with Eminem and 50 Cent that vaporized the company's reputation, and the FBI investigation and subsequent trial that competed the fall. In the madness that followed, Irv Gotti Presents: The Inc has somewhat been forgotten. Aside from the singles, the play count on Spotify is tiny—as I write this, some songs have run the counter to just four figures. Like most compilations of original material, it spins like a bunch of unrelated cuts, identical in concept to 2000's less-great Irv Gotti Presents: The Murderers. But it's broader and better than any Ja Rule album. Almost two decades later, the record feels like a time capsule ready to be cracked open.
It begins with a roll call. "Intro" is four-and-a-half minutes of Irv—in his "Suge Corleone" manifestation—declaring his company's supremacy. It's also extremely musical, a chilled-out blur of bluesy guitars, slow moving bass, a tacked-on verse from Cadillac Tah, and a low-toned hook repeated by Chink Santana, the song's producer, who handles most of the album's more street orientated material. Irv takes time to namedrop his entire roster, which, of course, is padded out by mid-level grunts: Tah was alright, but he wasn't exactly Busta Rhymes. And if you think Ja was guilty of biting DMX's style, there's a guy on here called Ronnie Bump, who replicated X like he was a tribute act. Still, when Irv announces, "I've got some new n***as" before listing the recent signees who would eventually come to nothing, it's with the conviction that this party will never end.
"Intro" segues nicely into "Gangstafied," a tune that smoothly rolls into view like a Mercedes out of the lot. Funky congas, lean guitars, and a tinkling piano encapsulate the musicality of a Murder Inc production. Same goes for the Southern pimp funk of "Ride Wit Us," a crew joint about the benefits of being cliqued up with the Inc: sex, plenty of weed, and entry into Murder Mansion, where you can enjoy such pleasures.
Of course, the album never makes you forget that the crew is above all else. A good amount of the lyrics are dedicated to Murder Inc's supremacy. "OG" might on the surface be a solo performance from loyal label soldier Black Child, but he uses the space to mention Ja Rule's impressive sales figures.
Which brings us to the star man. Ja roams the album like a holy drifter, ghosting into the gangster rap tunes to deliver his wild and cartoonish bars, before absconding to the more sensitive numbers, where he transforms into a jiggy loverman. Atkins is so clearly the male voice here with the raw charisma. See how he anchors "Down 4 U," one of the Inc's greatest ever singles. The song reinterprets Roger Troutman's "I Want To Be Your Man" into a sun-kissed instrumental. Ashanti, Vita, and Charli Baltimore are cast as three women vying for Ja's affection, though the whole thing is performed with such a light touch that it never feels like Ja is really trying to convince you he's some kind of libertine. The chemistry he shared with Ashanti was always more like two friends who like to goof around in each other's presence anyway. The video uses white letterbox bars to add to the bleached-out July look. There are dune buggies, beach parties, yachts, and cameos from Eric Roberts and Clarence Williams III (reprising their roles from "Down Ass Bitch"), imagining an endless summer.
"Down 4 U" was co-produced by 7 Aurelius. If you heard a great pop song coming out of Murder Inc at that time, it probably had 7's fingerprints on it. The best song on Irv Gotti Presents: The Inc might be "The Rain" (not to be confused with the Ja and Mary J. Blige collaboration "Rainy Dayz"). That's not a statement to be taken lightly—I mean, J.Lo's "Ain't it Funny" remix is on here too. 7 lines up a guitar loop that really does trickle down like raindrops over a fat bassline and thumping drum pattern. Jody Mack and O1's bars are solid, with Ja providing the third verse and crooning chorus. Call it one of the great Murder Inc singles never released as a single.
One of the more unusual songs is "Nobody Does It." Charli Baltimore spits over a beat that rattles and pings, while Ashanti juxtaposes the strange electronica with one of her most simple hooks, complete with a "la-la-la" refrain. Baltimore was an excellent rap artist and the song was supposed to come out on her second album The Diary, which tragically ended up permanently shelved by Gotti, a story for another day.
Ashanti and Cadillac Tah's "The Pledge" is significantly less famous than its remix, which features Ja and, more notably, Nas, who seemingly declares his loyalty to Gotti by declaring "Murder Inc, y'all!" and throwing up an M sign in the video. The song appeared to confirm rumours that Nas was ready to join the Inc. By the time Escobar jumped on stage alongside Ja and Ashanti at the MTV Video Music Awards in August 2002, it looked like the ink on the contract was already dry. But a funny thing happened: absolutely nothing. Nas simply disengaged. Ask Irv why QB's finest went cold and he still couldn't tell you. Writer Andrew Barber has theorized that Nas looked at the line of powerful enemies Murder Inc were stacking up and simply thought a deal was too risky.
Here's the thing: "The Pledge" without Nas and Ja is probably a better song. Over a beat that smoothly reimagines 2pac's "So Many Tears," Ashanti's performance is mournful and bluesy. It recaptures much of the magic of "Foolish," further displaying the singer's nuanced style of hip-hop soul.
The signing of Nas might have given Gotti something his empire lacked: street credibility. That Murder Inc's image was getting softer as more and more plaques were adorning the office walls may have passed Irv by. Ja's first album after the compilation, The Last Temptation, featured the extremely corny single "Mesmerize," which came with a video featuring Ja and Ashanti replicating the ending of Grease.
The Last Temptation was a poor record, while Ashanti's 2003 record Chapter II also felt like diminishing returns. The lack of care in album-making was noticeable. Overconfidence was catching up with the Inc.
It was the worst time to show weakness. New York rap at the time was such a complicated web of alliances and feuds, it resembled Westeros. Old friends Jay-Z and DMX has already been ticked off by the Inc. Then long-time tensions between Ja and 50 Cent boiled over into a full on-record war. Ja tried shelling Shady Records with dis track "Loose Change." The response was ruinous as 50 and his label boss, Eminem, with all their momentum, tore Murder Inc's credibility apart. DJ Green Latern's Invasion II mixtapes opens with a vicious block of dis tracks from the Shady crew. Even Tony Yayo calls in some insults from Rikers Island. The Inc's stock fell faster than The Beatles' reputation in American Christian communities after John Lennon dropped his "More popular than Jesus" line.
What's clear is that Ja was never the same again. In the wake of his embarrassing defeat, 2003 album Blood in My Eye was an attempt to recast Ja as a hardcore street rapper that didn't take. There were stints in prison. He cut a miserable figure when attached to the Fyre Fest controversy/hilarity—the 40-something with the baby face swimming with millennial tech bros, chasing relevancy.
The perspective that Murder Inc lacked street credibility feels bitterly ironic when you consider the label's downfall. In January 2003, its office was raided by federal agents looking for evidence that Murder Inc was funnelling and laundering drug money for Kenneth "Supreme" McGriff, Irv's friend since the early 1990s. McGriff was said to be the leader of the Supreme Team, a gang that controlled crack cocaine distribution during the late 1980s in the Baisley Park housing projects of South Jamaica, Queens. Ignoring that the government had a better conviction rate than Steph Curry's free throw percentage, Irv and Chris Gotti opted not to take a plea deal and trials began in early 2005.
That November, ex-McGriff associated Jon Ragin testified in the Christopher and Irving Lorenzo trial that McGriff and two others met after the famous nine-times shooting of 50 Cent in May 2000. "Supreme said, 'I got him'," Ragin told the court before describing how the gang said they had left 50 for dead.
The following month, a jury acquitted the brothers on all charges.
Irv dropped the Murder and officially renamed him company The Inc. After departing Def Jam, he lugged brand around to various companies. Ashanti stayed loyal until 2008. For a while, one of her label mates was Vanessa Carlton. In a 2019 interview with DJ Vlad, Gotti talked about the cloud that hung over him post-trial, and belief that 50 Cent snitched on him. "He's fooled the world," said Gotti, still sore that 50 came out of the beef with his reputation enhanced.
If there's been no successful resurrection of Murder Inc's heyday, maybe it's because such moments only ever come once. Irv Gotti Presents: The Inc, like all those records, is undeniably tethered to a specific time, and comes packaged with a pervasive myth established shortly after its release that the label was garbage. But if there's one thing we know about nostalgia it's that it makes even the most corny work cool. And trust me, "Ain't It Funny" can still set off the club. When the drums on the intro hit, it's a reminder that the early 2000s gifted us some of the best pop music ever made, and few crews can say they made they possible with the same force as Irv's stable.
---
This is a free post for all the Murderers. If you'd like access to all posts, and to support what I do here, please consider subscribing.