The Cold World of the Extremely Online Liverpool Fan
The odd existence of the digital football supporter who doesn't care about football
I became a Liverpool fan in September 1991, the month I turned six-years-old, just one year into what would become a 30-year league title drought. Not many fans were waiting as long as me to witness the team lift that trophy. "If I could see us win it once," I told myself over and over again, "I'd never need to see anything in football again. That would be enough for me."
Obviously, that wasn't true. I still get nervous on match days. It's a glorious anxiety. Without that feeling, there can be no exhilaration when Liverpool win. The flip side, of course, is that when things don't go well on the pitch, I feel lousy. "Why am I doing this?" I ask myself on the bad days. "Why can't I just enjoy music and movies and other things in life not predicated on a result that I can't control?" But that is at the root of why our species love sport. Nothing replicates the buzz.
Evidently, this is a phenomenal time to be a Liverpool fan. We've the most talented squad I've seen, led by a manager of genius and charisma. Hell, I'd spend Christmas with Jurgen Klopp instead of my family if I could. We spent two years winning almost every game. It's been amazing.
Yet you wouldn't believe it if you observed a cursed corner of social media, where you'll find a certain strand of extremely online Liverpool fan. I'm not talking about all Liverpool supporters who use social media, of course, but a very specific species that engages with the club via these mediums in ways most right-minded people would find strange. Though they are small in number—by my estimation it's maybe a thousand or so accounts, in a global fan base of hundreds of millions—I'm going to call them "Twitter fans" or "online fans" for brevity.

I've always known that "Liverpool Twitter" is a distinct ripple of the platform, operating almost like a self-governing principality within the Twitter ecosphere. I don't engage in it too much—when I tweet about the club, I'm really only talking to people who follow me and happen to be Liverpool fans. But I've spent the summer fascinated by this particular breed of online supporter that has mutated in the wake of the relative adversity the team faced last season after two years of stunning success. I've found them impossible not to observe, like they were ducks in a backyard swimming pool. At first, I couldn't get my head around what I was seeing, but I was fairly sure it had something to do with youth culture and capitalism.
I'm transfixed by these accounts because the way they engage with football seems completely detached from my lived experience as a fan, which I'd broadly summarize as being largely reliant on what happens on the pitch (crazy concept, right?). They use language I don't hear in Dublin pubs when I watch matches, or at Anfield, or among my Liverpool-supporting friends when we talk about the games in person or on WhatsApp. This phenomenon is not limited to just Liverpool. Every club seems to have a similar faction lurking within. I'm sticking with Liverpool as a lens into this strange brand of online culture because it's what I know. It wouldn't surprise me if everyone reading this recognized their own club's fan base.
This is not an organized group that operates under a unified banner, so pinning them down isn't easy. From what I can gather they are mostly young—teenagers or in their early 20s, though some are grown men who really should know better. And they're loud. Really loud. You'll often catch them flooding the mentions of journalists, news outlets, and the club's official account. ​​On top of all that, I would say this breed of online fan shares three main characteristics:
One: The first thing you must understand about these fans is that transfers are the barometer by which they believe all footballing achievement must be gauged. Liverpool had a relatively quiet summer on the transfer front this year, but they still solved the most obvious hole in their squad by signing centre back Ibrahima Konate. Of course, that was never going to cut it for fans who deem "winning" the window as the most telling metric on whether or not a club is in good health. It's fair to say that Liverpool Twitter in the closing days of window was in a state of anarchy.
Liverpool had an amazing run at the end of last season to secure Champions League football, including Alisson's titanic last minute winner against West Brom. Yet plenty of times I've seen a variation of the statement, "What was the point in qualifying for the Champions League if we're not signing anyone?" as if those wins (and iconic moments) didn't matter, and the sole reason we would participate in the tournament is to make money to facilitate bigger, better, and more expensive transfers. I'm not exaggerating when I say they made the recent military coup in Guinea about transfers.
Not enough transfers leads to the conclusion that the ownership must be replaced by custodians who will buy more players, as transfers are the only thing owners should be judged on. A few years ago someone tried to convince me that Liverpool's previous owners Tom Hicks and George Gillett—a pair of hucksters who almost oversaw the club's eradication—were better for the club than current owners, Fenway Sports Group, because "at least" Hicks and Gillett oversaw the purchase of Fernando Torres. Similarly, online fans are looking at Manchester United with jealous eyes because they signed three players in the window. This is despite United's parasitic owners, the Glazer family, draining fortunes out of the club, while FSG have never taken a penny out of Liverpool, the increase in valuation of the club itself is a large return on its investment. Only a person who values transfers about all else in football could come to that conclusion. (More on Liverpool's ownership later).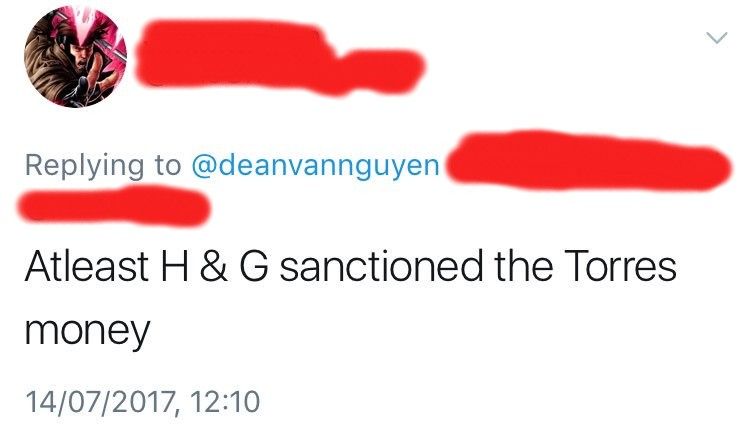 Look, nobody is saying that transfers aren't an important part of the game. Liverpool are in a strong position partially because of excellent recruitment in the Klopp era (but only partially—there is still coaching, tactics, training methods, and youth development going on.) Personally, I'd have liked to see another attacking play come through the door a few weeks ago, but I'm enough of grown up to know that recruitment in real life isn't as easy as it is on Football Manager, and that the success of your season doesn't rely on transfers. I'm enough of a grown up to know that almost every football fan believes his team's squad could do with another player or two. And I'm enough of a grown up that my mild disappointment that we didn't sign a forward is totally eclipsed by this being the best Liverpool squad I've ever seen.
But this obsession with transfers has grown into something beyond improving the squad—beyond what new players can do for your team on the pitch. It has become a hobby tangential to the sport. For this ideology to work, you have to buy into the idea that the 26 first team players that Liverpool can currently call on have no chance of succeeding this season, but if we had only added number 27, we'd be just fine. For this ideology to work, you must assume that every transfer will be a net positive for the club—that poor transfers frequently make a squad worse is never acknowledged. For this ideology to work, you have to believe that every setback we suffer this season could have been avoided if only we'd made more signings in previous transfer windows.
Online fans love to point to the summer of 2019, when Liverpool had a relatively quiet window, as the root of our (perceived) problems. Here's the thing, though: that summer came right in the middle of us winning the Champions League and Premier League title. I remember us being heavily linked at the time with Nicolas Pépé, a then-zeitgeist Ivorian player who thirsty transfer addicts decided they couldn't live without. He joined Arsenal from Lille that summer and struggled terribly in his first season. Would Liverpool have won the league with Pépé in the squad? Nobody can be sure. But I know I wouldn't go retconning the summer before we won our first title in 30 years.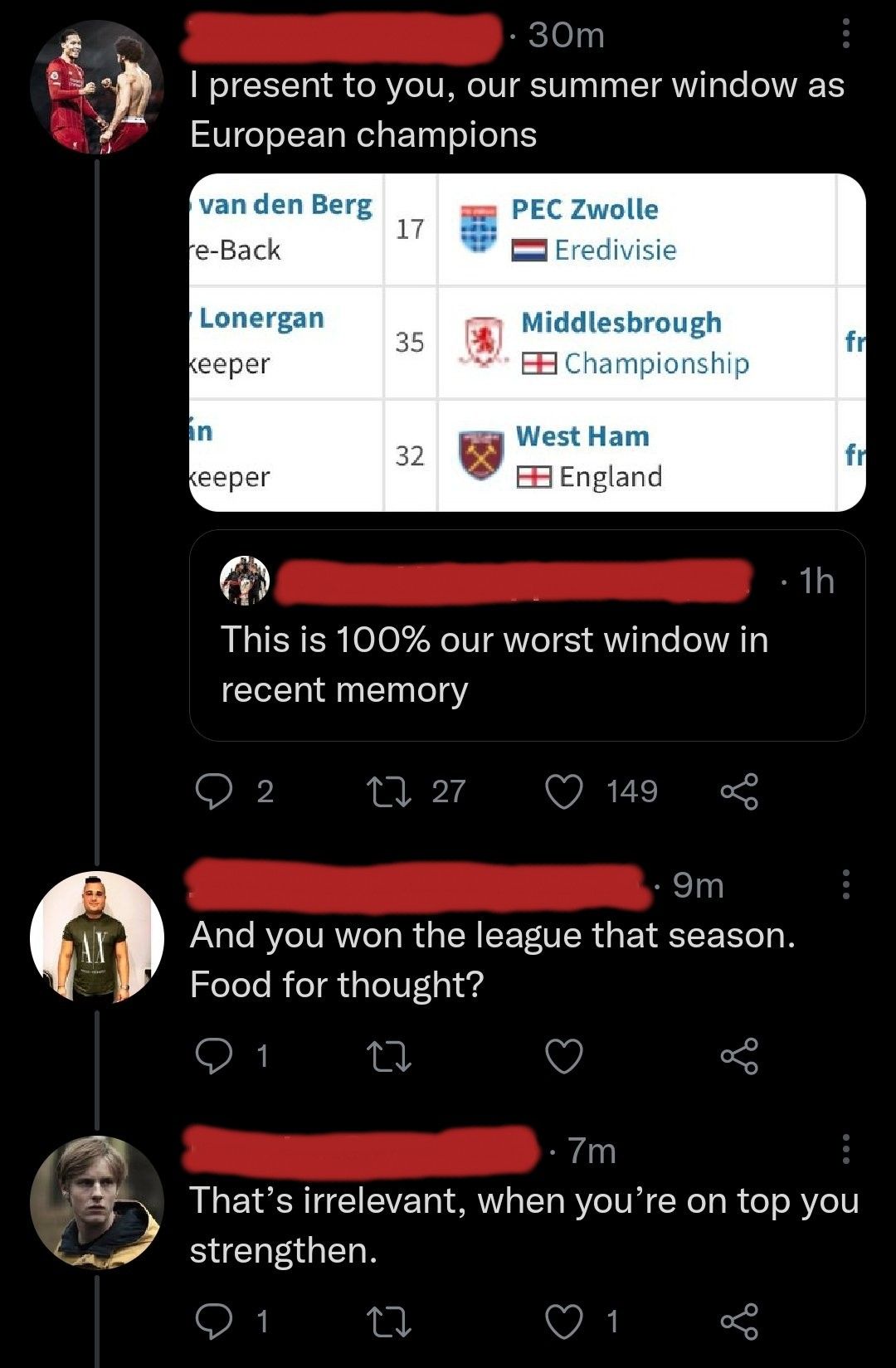 To be fair, the prominence of transfers in football culture is a problem much bigger than one small subsection of Liverpool fans. I do have some sympathy for people who fall into this obsession. Football media is saturated with transfer news. Because the money involved is so mega, there's a lot of people financially invested in making transfers a cornerstone of the game. Every football news site gives prominence to crazy rumours; Sky Sports News has essentially built its brand on transfers. As the great Rory Smith wrote in 2015, "The cult of the transfer has tricked us all into thinking that only signing new players can solve problems. It is has led us to believe in magic bullets."
Human nature is very much at play here. Many of us believe that the thing missing from our lives will complete us and capitalism never stops selling us the idea happiness can come with a sales receipt. In this backdrop, it's easy to be seduced by the idea that if we could just sign one more player everything would be better, everything would be great. But football, like life, rarely works in such tidy narratives.
Two: If there's one thing these extremely online fans love more than a transfer, it's fighting Liverpool fans on Twitter. Their mantra is very much that any fan who isn't with them, is against them. Most of this exhibits the symptoms of classic trolling behavior.
These fans have developed a slur for the Liverpool supporters they do not like: "Top Reds." From what I can determine, a Top Red is a person who believes the club can do no wrong. Top Reds are very much like "cancel culture," in that they only exist in the minds of the people who complain about them. Of course, no Liverpool fan believes everything is perfect. No fan of any club believes that.
These ragings about Top Reds frequently come with a mocking of the Liverpool accent and Scouse vernacular. I think this is worth repeating in garish italics: Supposed Liverpool fans mock the Liverpool accent and Scouse vernacular. This is a daily occurrence. I think it stems from general match-going fans who live in the city not sharing the bitterness and anger of their extremely online counterparts, and so "Top Reds" and "local fans" become synonyms. Imagine thinking local fans are a burden and not the heart and soul of the club. It reminds me of the odd Irish American insisting that those of us born on the island don't know the first thing about being Irish because we don't indulge in the same paddywhackery.

Three: They are extremely pessimistic. To this strand of online fan, Liverpool are already doomed to failure this season. The most important thing now is that they proved right about this. Results must plummet so there's evidence that transfer window was a disaster and that the owners running the club into the ground. When a player gets injured, it's a cause for celebration. Every player who has suffered at least two knocks in a calendar year is dubbed "injury prone," and must be sold or scrapped. Our own players are fair game to abuse—currently their favourite target is Divock Origi, a cult hero among Liverpool fans if ever there was one.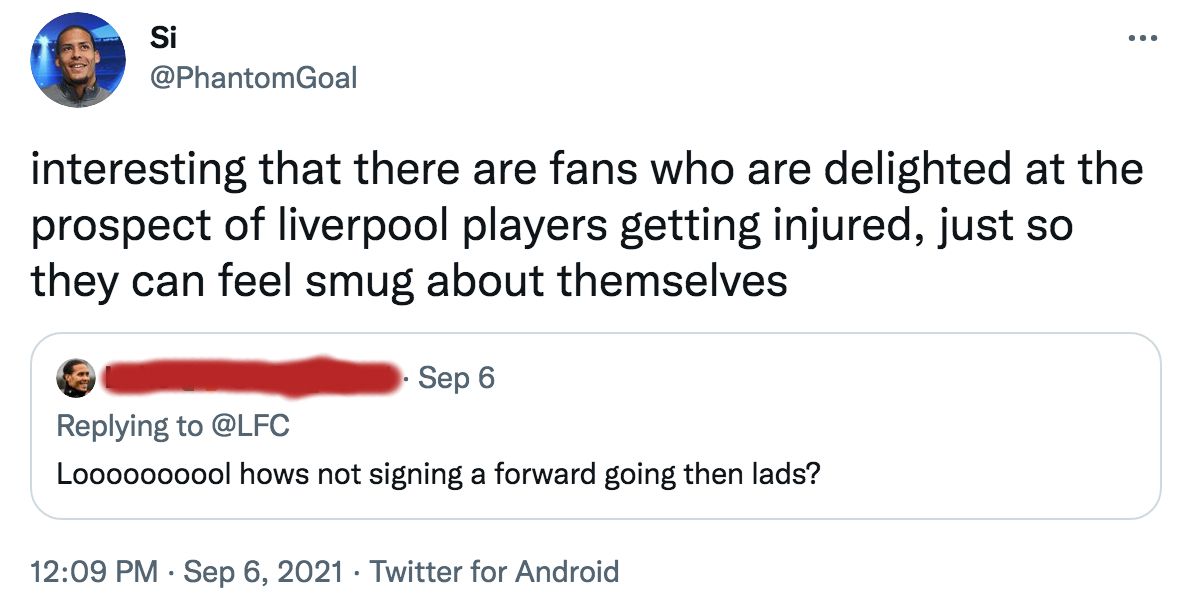 There's a bizarre obsession with a match against Atletico Madrid that took place in March 2020. This was the first significant defeat Liverpool suffered in about 14 months—a ridiculously successful run. That online fans' minds keep returning to the one setback in a historically great period encapsulates an incapability to fathom that sometimes sport doesn't go your way.
There's a gross sense of entitlement pulsing through all this: That as fans we somehow deserve new players and success. The implication being that fans of the clubs we buy the players from and defeat along the way don't deserve nice things as much.
Again, there's a capitalist critique to be made here. A mindset exists that demands a football club exist only to win and to consume. The players are commodities and the esteem they are held in must equate to how useful they are to the machine. Once a player ceases to be useful, whether through loss of form or injury, they become of less worth than the dopamine hit of a new transfer. Karl Marx's concept of commodity fetishism—relationships between people being seen as relationships between things—helps us understand this perception.
I'm actually reminded of Gamergate. Football, like videogames, is mainstream culture, but buried in its darkest depts are very angry young men. They are prone to spreading conspiracy theories—journalists who don't think like them are said to be accepting money from the club; the accounts showing we've the second highest payroll in the league are deemed to be cooked. There's also a vile misogynistic element directed at Linda Pizzuti Henry, FSG shareholder and wife of the company's principle owner, John W. Henry. Everyone operates anonymously.
It's a very fatalistic way of viewing football, right? Being interested in Liverpool enough to dedicate your social media presence to the club, yet not being able to find any joy in it. What a cold existence. If social media can be called an artificial world then their fandom feels artificial, their experience completely detached from the club itself. It's cold and sterile and none of the club's most attractive elements—such as history, tradition, and the city itself—are celebrated. It was an emotional time when we won the league. When I look at LFC Twitter, I don't always see the emotion. These fans might present online as fans, but it's a poor impression.
---
Now, back to the sworded topic of the ownership, because I know people will call me an "FSG apologist"—a stupid expression—and this article just an attempt to delegitimize their "FSG Out" movement (such as it is). Here's the thing: unlike most people who call for the ownership to leave, I actually have a vision for what I'd like an FSG-less version of Liverpool to look like: fan-owned. I've never wanted the club in the hands, and subject to the whims, of a billionaire.
Still, I would consider myself in line with most Liverpool fans: I've no affection for FSG, but see them as relatively responsible owners who have overseen the development of the club off the pitch and success on the pitch without acting in a manner that would put it in the kind of peril we experienced before their arrival. To put things really simply, if on the day they bought the club you'd offered me a Champions League and Premier League win within a decade, I'd have taken it.
Their tenure has had its lows: they've been forced to rollback on furloughing staff, ticket price hikes, and the European Super League—though rollback they did. Communication could be better too if they want to retain full support from the fans—it would be nice if every time we heard from Henry, he wasn't fucking apologizing for something. (Extremely online fans will occasionally pay lip service to these incidents, but it feels performative in the highest order. Many were hilariously transparent about this by admitting after the European Super League saga that they'd forgive them if they bought Kylian Mbappe or whoever.) Could FSG speculate to accumulate a little more, especially to help plug the Covid-induced gap in the club's finances? Sure. But with these missteps, I'm reminded of the two Ps: Proportion and perspective.
Young people brought up on reality TV tend to boil the world down to a tidy binary choice of "In" and "Out"—including matters as incredible complex as club ownership. With this outlook, it's impossible to be critical, even skeptical, of FSG without coming down on one side of a too simplistic question: "Are you 'FSG In' or 'FSG Out'?" Even the phrasing of this question is very weird. Surely a more accurate query would be, "Do you want FSG in or FSG out?" Instead, supporting the owners or not supporting the owners must be part of your identity as a fan. There's no room for nuance in this framing. And it doesn't cover what should be the most obvious question: If not FSG, then what? Without an offer on the table a new owner is strictly hypothetical. When you ask a person with #FSGOUT in their profile the very obvious question of who or what do they want in the owners' place, their answer is usually as soft as "someone who will do [all the things they want personally]".
There's also the plain simple adage of better the devil you know. There's no such thing as an ethical billionaire, but, as much as it pains me to say this, I'll take the capitalists over the oligarchs or nation states sportswashing away their terrible crimes. Personally, I think being successful with a self-sustaining model is something to be proud of—a fan-owned Liverpool would be run with no profit-making element whatsoever. Because of extremely rich people funnelling massive amounts of money into rival clubs for their own nefarious reasons, owners are now expected to invest vast fortunes of their own personal wealth. Good luck finding someone willing to plunder huge sums into Liverpool with no hope of a return for purposes that aren't evil. And you don't have to look far to find clubs who've suffered from truly horrendous ownerships. Liverpool fans of a certain age (and when I say that I mean those of us that can remember 2010) know this to be true. Local supporters ran probably the most successful campaign to oust an owner in modern English football history. No anti-FSG campaign will ever truly take off without the backing of groups like fan union Spirit of Shankly, no matter how loud online fans are.
These can be interesting topics to talk about and think about, but there's little point getting into the debate on Twitter. Extremely online fans don't really understand how the club is run and don't want to learn incase a little bit of knowledge contradicts their worldview. Nobody is going to look at the publicly available accounts if they show that John Henry doesn't actually spend transfer money on new yachts. This is a faction of people that like picking entirely random players from across Europe and get blame FSG for not signing them. One day I made the mistake of trying to explain to a guy what it would mean for the club to be fan-owned and he replied with some non sequitur about Top Reds giving Adrian a 10-year contract. None of this is grounded in reality.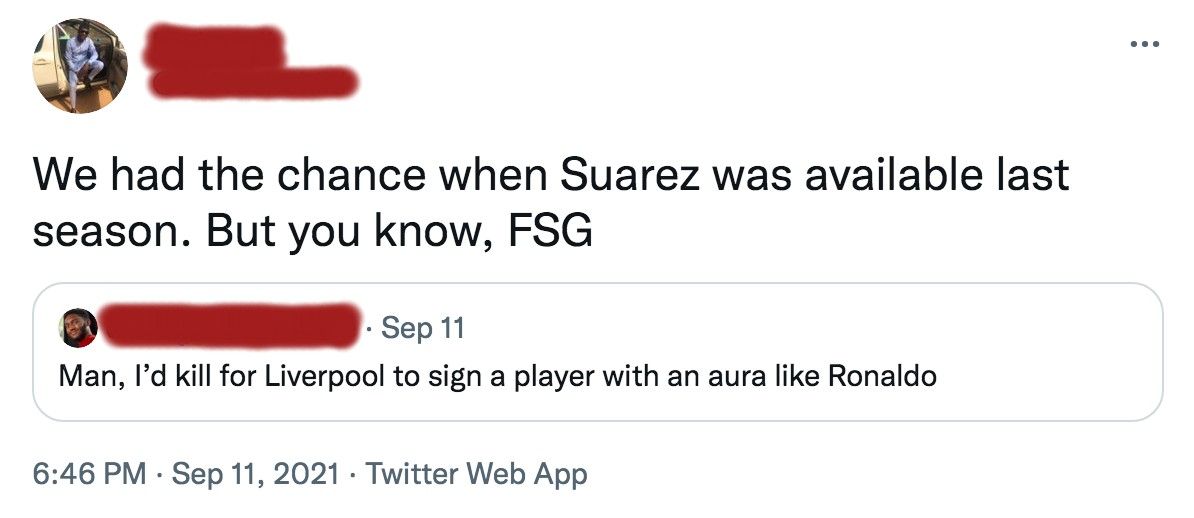 Here's the thing: I truly believe that if Liverpool hit the lows seen in the still relatively recent past again, a lot of these fans will abscond to other clubs. Not getting what you want from football all of the time seems completely intolerable to them. But following a football club should be about ups and downs. Otherwise the ups wouldn't mean a thing.
---
This is a free post for all the Reds. If you'd like future, generally non-football related newsletters sent to your inbox, please consider subscribing. It's free unless you want access to everything—in that case you've got to pay. If you want to show financial solidarity with a one-off tip, use PayPal.Me