Uneasy Lies the Head That Wears a Crown: On Kendrick Lamar's Mr. Morale & The Big Steppers
Kendrick turns his viewpoint inward to create a dense, messy, but gripping album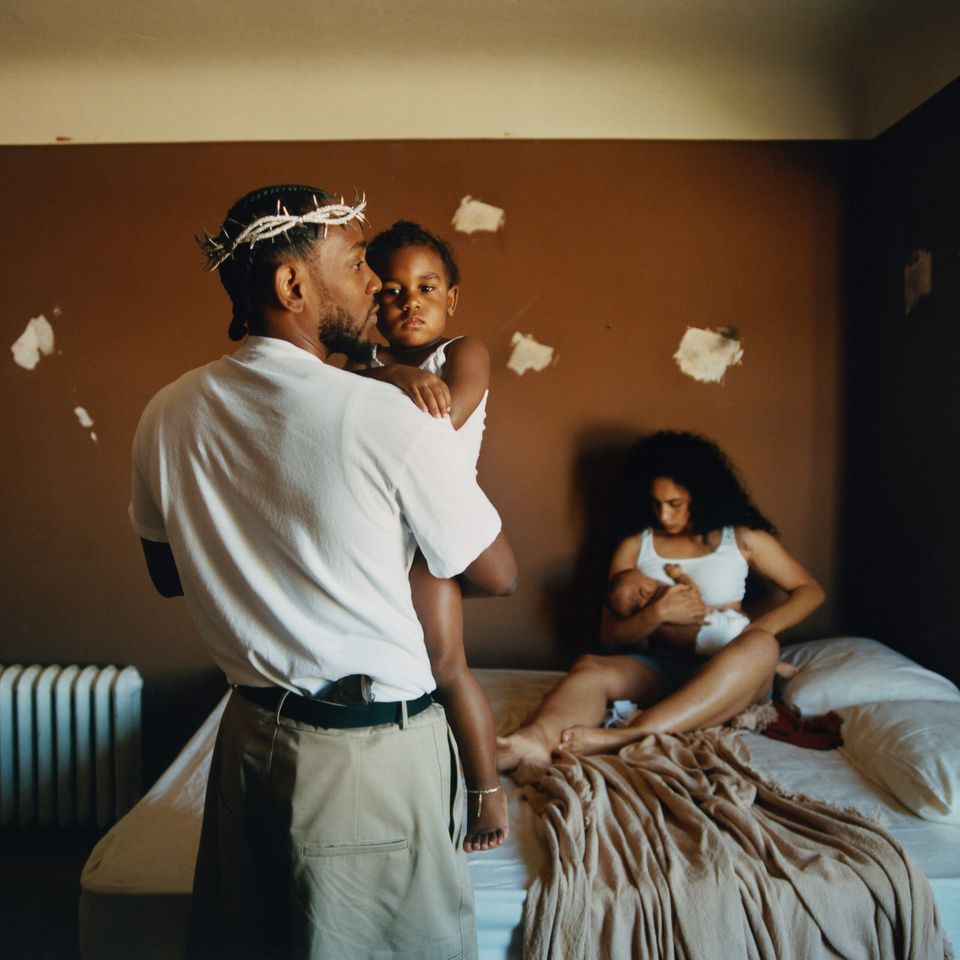 "A crown is merely a hat that lets the rain in."—Frederick the Great
The drought is over; Kendrick Lamar's extended interlude has come to an end. As he notes on the opening track Mr. Morale & The Big Steppers, a full 1,855 days passed since his last full-length DAMN. Kendrick's count doesn't include his duties on the Black Panther soundtrack or the infrequent guest spots he's dropped over the years. Because you don't become one of the world's premium album-makers unless you (correctly) believe that, when all is said and done, it's solo projects that will determine your legacy. Yet on Mr. Morale & The Big Steppers, it's his legacy that Kendrick seems determined to put to a stress test. He's enjoyed a reputation as rap's moral leader—an unimpeachable figure of righteousness wandering a cursed landscape. Now, we're left to wonder if that status was all too much for Kendrick's spirit.
The cycle began at the start of last week with the release of "The Heart Part 5," the latest in his long-running series of loosies. Kendrick has a habit of head-faking with his pre-album releases: carefree Dr. Dre collaboration "The Recipe" didn't align closely enough to the rest of Good Kid, M.A.A.D City to be included as anything but a bonus track; "i" was Kendrick at his most pop-minded and nothing like the trenchant social commentary of To Pimp a Butterfly. But in this case, the shapeless, serious "The Heart Part 5" proved prophetic. At 18 tracks (presented as a double disc album) Mr. Morale & The Big Steppers is dense and verbose. Ideas, both musical and lyrical, cascade from every angle, unbound from traditional song structure or a singular narrative threads But lean in closely and you will find thematic cohesion. Having made music that soundtracked social movements—music that peered down the microscope and saw the malignancy in America's soul—Lamar takes on an even messier subject: himself.
Aside from a few strange engagements with the culture wars (more on that later) Kendrick turns his head almost entirely away from the news cycle. There are revelations that he's spent his time away from the spotlight attending therapy, blowing cash on extravagances that didn't bring him any joy, and suffering a two-year writer's block. (Or he's "been going through somethin'," if you're into the whole brevity thing.)
On "Crown," Kendrick reaches for a familiar reference to Shakespeare's Henry IV to voice the burden that must come with being dubbed the voice of a generation. "I can't please everybody," Kendrick repeats, sounding desperate that we understand. The album artwork shows the crown—ostensibly the physical embodiment of his career achievements—to be a rather unimpressive thing when compared to precious flesh and blood family, a topic he continuously returns to throughout the album. The artist who once rapped "the great American flag is wrapped and dragged with explosives" is now fully focused on his kin, his environment, his trauma, and himself. It's not quite a heel turn, but it does add new hues to a man who has been so idealized for so long. The message is clear: Kendrick Lamar is not your savior.
Though Kendrick can at times pull you into a world that feels as gritty as the small room on the album cover, the presentation of Mr. Morale & The Big Steppers is that of a premium product. Long-time producers Sounwave, DJ Dahi, and Boi-1da are among those providing waves of piano, horns, and string instruments. The beats rarely stay in repetitive loops, instead evolving like living organisms. "Worldwide Steppers" is built around a sample of brilliant 1970s Nigerian afro-rock band The Funkees that refuses to release the tension as Kendrick charts his time time spent with his two kids while also alluding to infidelities, until a sudden sunburst of smooth throwback soul banishes the murk. "N95" features some rumbling "Ayo Technology"-style electronica. On a record of few potential singles, "Die Hard," with its clean, boppy drums and catchy hooks courtesy of Blxst and Amanda Reifer, seems an obvious choice.
Some phenomenal guests add to the sense of prestige. On "Purple Hearts," the drums dissolve away to set the scene for none other than the mighty Ghostface Killah, giving his verse an appropriate sense of gravitas. The themes of "Father Time," which sees Kendrick examine the effect an absent father had on him and the broader effects "daddy issues" have on society, are furthered by some back-in-the-day piano chords and sweet chorus sung by Sampha. Most surprisingly, Portishead's Beth Gibbons lends her creaky voice to "Mother I Sober." The fragility of her performance brings extra weight to a song where Kendrick, also using a soft whisper, confronts the inherited trauma that comes from generations of sexual abuse and the scars left on him from childhood when he was forced to repeatedly deny that a cousin had abused him. "I wish I was somebody, anybody but myself," Gibbons quivers at the end of each verse.
These cameos are a wonderful garnish next to the performance of the leading man. Don't get it twisted: Kendrick Lamar is a wonderful rapper—not just rap artist, rapper. His vocals are fluid, soulful, and, more than ever, multifaceted. On "Rich Spirit," a minimalist jam that deploys some DJ Mustard-style finger clicks, he tunes his voice to something scrawny but tuneful. Contrast that to the tough depiction of a battling couple "We Cry Together," which co-stars actor Taylour Paige and a sad, discordant piano chord-led beat courtesy of The Alchemist. The fiery performances pushes the limits of what constitutes a rap song as the couple furiously trade words that veer from juvenile insults to broader societal issues—she blames toxic male culture from the crimes of Harvey Weinstein and R. Kelly; he hits back with barbs about fake feminism. Man, what must the atmosphere in the studio have been like that day to nurture such performances?
For sure there's a few bum lines throughout this thing. "The media is the new religion" is the kind of quote I expect to see on a JPEG posted on a relative's Facebook wall. But most confusing is Kendrick's fixation on that myth that is cancel culture. On "N95," he seems to question its existence: "What the fuck is cancel culture, dawg?/Say what I want about you n****s, I'm like Oprah, dawg." But on "Worldwide Steppers," Lamar pronounces freedom of speech dead and accuses "everyone" being sensitive. On "Savior," he claims other rappers are censoring their lyrics because they're scared of being criticized: "Politically correct is how you keep an opinion," he asserts. The expression "politically correct" grated on me when I first heard Kendrick use it—as it does whenever I hear it these days. Rap has by and large been insulated from the bullshit free speech culture wars. A central concept of Mr. Morale & The Big Steppers is that the best of us, Kendrick included, can be flawed, but it needn't have waded into the murky and unpleasant idea that social ostracism has become weaponized. It's unclear whether the presence of Kodak Black, a Florida rapper who has faced various legal issues pertaining to the abuse of women, is supposed to feed into this narrative, but it's potentially the album's most grievous sin.
Yet right after a song that decries rappers holding their tongue comes the album's more daring track. "Auntie Diaries" is a highly personal chronicle of Kendrick's experiences with two transgender relatives using this narrative to critique himself and a society that fosters transphobic and homophobic attitudes. Throughout, Kendrick weaves in and out of using correct and incorrect pronouns, true names and dead names, which appears to depict his own process of adjusting to his uncle and cousin coming out as their authentic selves. This purposeful use of incorrect language—as well as the use of the homophobic f-word to depict how common he heard it in his youth—have understandably been criticized. There is no way that a writer as trenchant of Kendrick would do this flippantly. Many give him slack because they know that every syllable is purposefully chosen.
I was reminded of something I learned when I took a three-month gig at an LGBTI+ youth charity. At a panel event we put on, a middle-aged school principal discussed his experiences with a young trans pupil. When referring to a time before the girl started to transition, he unintentionally used he/him pronouns. One person in the audience immediately took to Twitter to criticize him and the event for the faux pas. Discussing whether we should respond, one of the senior figures in the charity broke down the meaning of positive intent in this instance—that is, there is no comparison in accidentally using incorrect pronouns and deliberately using incorrect pronouns as a way of invalidating someone's true self. Similarly, some may feel that Kendrick's use of language here is misguided, but this is the first mainstream rap song I've heard that preaches trans visibility, and that to me feels like a net positive.
Almost every review of Mr. Morale & The Big Steppers has given it maximum marks and so it seems inevitable that there will be some backlash. To an extent, that was the case with To Pimp a Butterfly, which, illuminated in time, has held onto its classic status. I'm less optimistic that Mr. Morale & The Big Steppers will be remembered in the same way. But making a historically great album doesn't feel like the point. This is about a historically great artist soothing his soul. "I choose me, I'm sorry," Kendrick repeats as the swooning strings come down on show-stopping closer "Mirror." Disregard what you previously thought. Kendrick Lamar wants you to know there are no full-time faith healers or flawless martyrs in this kingdom of ash.
---
This is a free post. I implore you to support what I do here by subscribing.